Tuesday, April 16th, 2013
First, don't forget my virtual book tour is happening today. Comment on one or more of the participating blogs for a chance to win prizes!
Second, VEGAS VACATION COMES OUT TODAY!!! Ahem. Yes, I'm a little excited about this. I love new books. I want to hug them and squeeze them and call them George.
Okay, on to the info about the book, which is what you're really interest in, right? Right!
It's spring break, and a group of teachers from Half Moon Bay Middle School are planning to cut loose. History teacher Meg Phillips hadn't planned on being one of them—Vegas isn't really a town for a bookworm—but somehow she let her friend Anne talk her into it.
Though honestly, she'd rather indulge in some poolside reading than co-star in an R-rated edition of Teachers Gone Wild.
It took some major arm twisting for Finn Walsh to convince his fellow gym teacher, Anne, to do whatever it took to get Meg to Vegas. For over a year he's been looking for the chance to get to know her outside of work. He's drawn to her quiet beauty and intelligence—and the hint of fire beneath her understated exterior.
When he finally gets the opportunity to peel away those layers, the result is far more explosive than he ever fantasized. Now to convince her that the week isn't a wildly out-of-character mistake, but the start of something amazing…
Info on where to buy it is on my book page!
Read an Excerpt
This is an unedited excerpt, it may differ slightly from the final version.
Half Moon Bay, California
"Come on, Anne. The least you can do is ask her for me. She'll listen to you." Finn Walsh offered up his most winning smile, but his colleague gave him a dubious glance.
"Why exactly would I help you get in my friend's pants?" Anne Kirby snorted, bending her long limbs into a stretch as they both warmed up to start the day. Teaching physical education at a middle school kept them running. "Besides, Meg turned you down the one time you asked her out."
Yeah, she had. Finn winced. "I don't want to get in her pants."
Anne straightened and stared at him. "Right, I believe that one. You want to date Meg, but you don't want to do her."
He lowered himself to the wooden gym floor and grabbed the toe of his sneaker to help flex his calf. Meg's heart-shaped face filled his mind. Brunette curls he wanted to tangle his fingers in, eyes that were an impossible shade of storm cloud gray. She wasn't tall or short, just average, but she had curves in all the right places. Her ass, especially. Tight, round and perfect. He wanted to get his hands on it. Hell, he wanted to get his hands on all of her, as often as humanly possible. But if it were just about getting laid, he could find a woman for that easily. No, he wanted Meg, specifically. "Okay, I don't only want to get in her pants."
"That's a little more believable." Anne smiled when the school bell rang. Within a few minutes, gangly teens began trudging past them into the changing room.
"I mean it." Finn waved to a few of his students, picking himself up off the floor. "I like her, Anne. She turned me down because she thinks it's a bad idea to date co-workers. She never said she wasn't interested in me."
Crossing her arms, Anne shrugged. "She's being smart about it. We had an ugly breakup between two teachers a few years back, before you came to HMB. The memory for those of us who were here is still pretty fresh and really harsh. I don't know if I'd date another teacher either. When it goes sour–"
"If, not when. It doesn't have to go sour." Usually, he wasn't one to fish in the work dating pool either, but for Meg, he'd make an exception. She taught history, and she was quiet, smart, and drew him like a magnet. Seeing her was his best reason to show up for staff meetings. He liked being around her, liked her considered approach to every controversy that came up at work. She wasn't out-spoken and ready to jump into the fray like Anne, but when she offered an opinion, everyone listened. Everything about Meg appealed to Finn. There was huge potential between them, potential for something that could actually last. He knew it, without any doubts.
"Please. There are two options with relationships. They either go happily ever after or they go sour." Anne arched an incredulous brow. "You're saying you want happily ever after without going on a single date with her?"
Maybe. He clamped his lips shut on that answer, shock spiking through him. He'd known his interest was serious, but his reaction to the question floored him. Swallowing hard, he focused on Anne. "Even if things end, it doesn't have to be ugly. I'm still friends with a couple of women I used to date. I'm not a love 'em and leave 'em douchebag. You'd have heard about it if I were–Half Moon Bay isn't that big a city."
Running a hand through her short red hair, she sighed. "True enough."
"I just need her to see me outside of work. She's on autopilot, shoving me into the 'no way' category without giving me a chance. Getting away from our everyday interactions here might just shake her out of that." He held up his hands in a placating gesture. "I'm not going to take advantage of her or force her into anything she doesn't want, I just want her to really consider if she does want me. She's not doing that now."
The few times he'd caught Meg looking at him, he could tell she wasn't unaffected by him. She'd just made the rational decision that dating him was a bad idea. He needed to change her mind. He needed her to see him as a man and not just a fellow teacher.
Anne narrowed her eyes at him. "You swear you won't get her drunk in Vegas to sleep with her?"
School would let out for spring break on Friday, and a group of teachers were heading for Las Vegas for a week of rest and relaxation. Or partying, gambling, and booze, whatever they preferred. Finn has seized on the idea that this was the perfect way to get Meg away from work, without her having to agree to go out with him. A week to wear down her defenses was just what he needed. But without Anne to prod her, she'd never go on that kind of trip. So twisting Anne's arm was his first order of business.
"Yeah, because sloppy drunk women are so hot." He rolled his eyes. "Try to remember I'm not a douchebag. I wouldn't do that to anyone, least of all a woman I like." Maybe more than liked, but he kept that to himself. He'd never get the chance to figure out what might come of this jones he had for Meg if he didn't get her to spend time with him.
The squeak of tennis shoes echoed in the wide gymnasium as students flooded from of the changing rooms. Anne blew out a breath. "All right, I'll ask her. Just ask. If she says no, that's it. We're meeting up for dinner tonight, so…"
His grin was wry. "Don't mention me when you ask."
"I won't." She laughed.
"Thanks."
"You owe me one." Lifting a whistle to her lips, she let out a shrill blast and her students obediently began to line up for roll call. "I think my class needs to run the mile today."
"Have fun, sadist." He motioned to his students and they lined up as well. Grabbing his clipboard from the bleachers, he shook his head at her.
She jogged in place for a moment. "I can only be nice to so many people in one day. You just used up my quota."
"Lucky me."
Sunday, April 7th, 2013
I'm doing a Goddess Fish promotional virtual book tour across 25 different blogs on April 16th (the day Vegas Vacation releases).
During the tour, I'll be awarding 5 digital copies of my backlist story, "All Tangled Up" to randomly drawn commenters, and a grand prize pack of a copy of "All Tangled Up", a $10 Amazon or BN gift card, and a Vegas-inspired playing card necklace to one randomly drawn commenter.
So, April 16th, go take a hop around on one or more of those blogs and say hi. You might win something good!
Friday, February 8th, 2013
In that last few months I've sold two new books to Samhain Publishing. Vegas Vacation kicks off a new four-part series about a group of childhood friends who travel far from home to find love. Edge of Night is the third in my Night series. Embrace the Night was book 1 and Night Games was book 2. Details below! Covers coming soon for both books.
VEGAS VACATION
Coming May 2013…
With the start of spring break, a group of teachers from Half Moon Bay Middle School decide to cut loose and spend a week partying in Las Vegas together. History teacher Meg Phillips lets her friend Anne talk her into going along, though she's more interested in some poolside reading over Teachers Gone Wild. Vegas isn't really a town for a bookworm like her.
Finn Walsh had to do some major arm-twisting to convince fellow gym teacher Anne to get Meg to Vegas, but he's been looking for an opportunity to get close to Meg outside of work for over a year. Her quiet beauty and intelligence draw him in, and he knows there's fire beneath her understated exterior. He wants to peel away those layers, and he's hoping this week gives him that chance. What results is far more explosive than he'd ever fantasized, shaking him to the core. He doesn't want to let her go. Now he has to convince her that the week wasn't a fluke or a mistake that was wildly out of character, but rather the start of something amazing between them. What happened in Vegas should definitely not stay in Vegas.
Read an Excerpt!
EDGE OF NIGHT
Coming September 2013…
Magickal beings live among us, hiding in plain sight. It's a world that chef Erin Bates had no idea existed until a few years ago. Her aunt married a werewolf, and he changed her into wolf too. Family politics got a little hairy when it included the whole pack, especially when Erin started dating a vampire. Things went badly with her ex, Asher, and she's got no intention of dealing with a relationship any time soon, but a girl has to scratch an itch every now and then.
An occasional booty call with sexy FBI agent Luca Cavalli is just the ticket. Neither of them is looking for commitment, but since he's a vampire too, Erin wants their affair discreet.
Unfortunately, when Erin starts getting hang up calls, threatening messages, and her car is vandalized, Luca has no problem shoving his way into her life. She thinks Asher is messing with her, but Luca finds evidence that it's not him. So Luca decides to move in with her and provide close, personal protection. He's lost women he cared about before, and he's not willing to go through that again.
When her stalker strikes, and her life is on the line, Luca risks everything to save her. No hesitation. It makes her realize she has to stop denying she loves him. Her family will just have to deal with a vampire being in their wolfish midst. And there's no way in hell Luca's walking away from her. It's taken him centuries to find the right woman. She's his now. Always.
Read an Excerpt!
Saturday, December 1st, 2012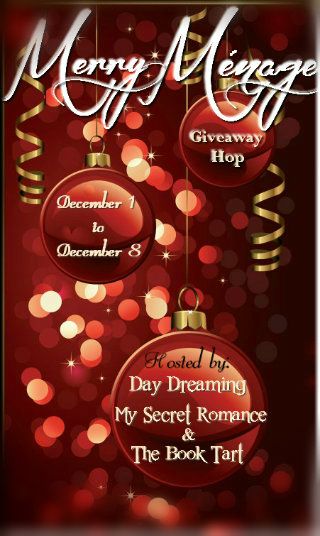 Come join our Merry Menage Giveaway Hop hosted by Day Dreaming, My Secret Romance and The Book Tart! Tons of awesome prizes are being offered up!
MY GROWN UP CHRISTMAS LIST
So, what do I want for Xmas besides world peace?
*A sexy guy wearing nothing but a stocking. That's what I call a stocking stuffer
*A fluffy kitten because everyone needs a dose of cuteness
*A pony because I never got one as a child and I'm still traumatized by that
*Cupcakes…one in each flavor!
*A garden gnome to remind me that winter does end and spring is right around the corner
*A trip to Hawaii so I don't have to wait for spring to get some warm weather
So, my giveaway is open to everyone, including international readers. I'm giving away a trio of my menage-or-more-themed ebooks, It's Raining Men, Wasteland: The Wanderer and Demon's Caress. Comment and tell me what's on your Xmas list for a chance to win!
Thursday, October 18th, 2012
The reality show Revved Up has made Kasen's Kustom Automotive a national sensation. For garage co-owner Jesse Kasen, the only fly in his ointment is Lola Adams, the show's producer. The little Georgia peach is a blonde bombshell. All he can think about when she's around is what she'd look like all tangled up in his sheets.
Lola might use her sexuality to get what she wants, but it's her knowledge of cars, courtesy of her auto-racing family, that got her the producer spot on Revved Up. Jesse is hot and the star of all her recent steamy fantasies. Too bad he's off limits—she won't risk her professional reputation on a fling.
Jesse sees one solution to their problem—burn off this attraction in bed and get on with business. Lola agrees because she has to know what it's like to touch him, but she wants demands discretion. One sex-filled weekend in his secluded cabin, no strings attached. But one weekend might not be enough.

For more info: http://www.crystaljordan.com/books/all-tangled-up/
Read an Excerpt
A low, throaty laugh echoed through the massive garage. The kind of sound that made a man's brain fog with lust. It made Jesse's muscles tighten with annoyance. Lola shouldn't be flaunting her hotness around his men, distracting them from their work. Kasen's Kustom Automotive was a business, damn it.
Unfortunately, it was also the set for a reality television show that overhauled classic cars, and since Lola was the show's new producer there was nothing Jesse could do about her flirting with anyone. Normally he loved working on the show and he'd been thrilled when Revved Up had been offered national syndication, but that offer had come with Lola Adams. He glanced up from the sound system he was installing to see her flashing a smile at one of his grease monkeys.
"That's a great idea, Sanchez." Lola's voice rolled out in her slow Georgia drawl, her tone sugary sweet. She laid a hand on the skinny Mexican's tattooed forearm and he grinned back, leaning closer.
The two of them walked toward the car, rejoining the camera crew and mechanics who were hard at work. Eddie, one of Kasen's other employees, was bent across the hood attaching the windshield wipers and Jesse watched his eyes glaze a bit when Lola came near. She gave Eddie a wink. "Not that we don't love your handsome face on camera, but I think we want this shot to focus on what Jesse and Sanchez are doing with the sound."
Eddie flushed when she called him handsome, and his expression conveyed how eager he was to please her. "I'll get this done in under a minute."
"I'm always impressed with the speed of this garage's crew." Her smile was charming, and combined with the form-fitting skirt and shirt made of some soft, expensive fabric, petite height and knockout curves, she was a walking wet dream. It didn't hurt that she had a face that would make Venus envious. With creamy skin, light brown eyes that tilted up at the corners, and long blonde hair, everything about Lola made any man with a pulse want to reach out and touch.
"Let's just get this done," Jesse said, giving Eddie a pointed look through the windshield. The man quit staring at Lola and got his task finished as quickly as he'd promised.
"Great job," Lola complimented. Her gaze fell on Jesse and for a split-second her grin faltered. Her gaze slid down his body, where he was sprawled half in and half out of the vehicle, working under the dashboard. Her perusal paused for just a moment too long on his chest and where his jeans were stretched tight over his cock. He saw the burn of lust in her gaze, felt an answering spark inside him. She jerked a bit, shook her head and turned to Sanchez with a dazzling smile. "Are we ready for y'all to do your thing?"
Jesse barely managed to suppress a growl, forcing himself to focus on the car. If he were honest, he'd admit he was pissed off because Lola showered her attention on someone besides him. If he'd been getting more interest from her, he probably wouldn't give a damn who else she flirted with. He was clearly losing his mind.
Tuesday, September 25th, 2012
It is a future few envisioned–humans with the ability to shape and shift into every imaginable predator on earth. This new world is dangerous, dark and filled with desire…
HUNTING TEMPTATION
Fox-shifter Gea Crevan is a PI working a case deep in the underbelly of New Chicago. She relies on ruthless businessman Quilliam North for good intel and even better sex, but resists taking him as her mate. Until she witness his carnal lust for another, and suddenly all her feral instincts are unleashed…
RECLAIMING TEMPTATION
Grifter Felicia Tamryn is half cheetah and all woman who always gets what she wants. Until the day she tries to con Constantine Breckenridge and instead finds her heart held tight in the talons of an eagle-shifter. Felicia tries to run but her past and her body betray her, catching her in a sexual trap of her own making…
For more info: http://www.crystaljordan.com/books/unleashed
Read an Excerpt
This is an unedited excerpt, it may differ slightly from the final version.
It was a dangerous game she was playing.
How long could she expect to keep fucking her mate without telling him what they were to each other? Gea could only be grateful that he couldn't sense it himself. Only shifter species that mated for life could tell when they found their mate, and leopards couldn't. Artic foxes, however, were not as lucky. Just a handful of species could sense it. Even then, not all of them had a mate they were supposed to spend the rest of their lives with. It was a crapshoot, and she was on the losing end. Deus, after what her mother had been through, she'd thought there was no way that fate would land her with a mate.
She'd been wrong. So very, very wrong.
When it came to Quill, she stayed away as long as she could, but when the need grew too strong, she had to have him. Touching him, tasting him, feeling him thrust deep inside her fed a craving she didn't even want to admit she had. She licked her lips, savoring the flavor from his kiss that still lingered.
Tonight's trip into the Vermilion had given her an excuse to show up on his doorstep. His place was right on the edge of civilization, right before it gave way to the dangerous wild side. A perfect metaphor for the man himself. One foot still in the shady dealings of the Vermilion he'd grown up in, one foot in the upstanding world of legitimate business. The dichotomy intrigued her, and she wished it didn't.
She wished she could resist him, resist the draw he had on her, but she hadn't once been successful since the night she'd met him and sensed what he was to her. If she was close enough to touch, she did. Her insides twisted tight, and she clenched her fingers to still their shaking. Now was not the time or the place to show weakness.
But she was weak, wasn't she? As weak as her mother had been, addicted to her mate. Dependent. Pathetic.
No. No. That would not be her. That would never, ever be her. As long as she never told him, never claimed him, she was safe. It was just sex. She never gave him more. Her only lucky break was that his upbringing made him just as wary as she was of tying himself to someone.
Next time, she'd fight harder to stay away from him. Next time, she might even manage not to knock on his door.
It was unfortunate her investigations took her into the Vermilion as often as they did. But where else could people hide all their filthy little secrets? Or so they thought. So far, not one of her investigations had been fruitless. The information was there, if you knew who to ask. If you knew who to pay.
Suppressing the pain and fear and self-loathing that always followed the high of being in Quill's arms, she focused on the task at hand. This was what mattered. This was her life. This was who she was. She needed to remember that.
Another block of skirting through the darkness and she was in front of the warehouse she wanted. Slipping around to the side into the unlit alley that separated it from the next building, she faced a wall with no door. Or so it appeared. Squatting down, she pressed her ident card to a tiny vidscreen hidden at the base of the wall. A small click sounded and she pushed in a rough square of staggered bricks that was level with her hip. She hopped up and shimmied inside. The bricks swung shut behind her.
"Ziegler?" She squinted in the gloom, waiting for her eyes to adjust to the total lack of light. At least outside, there was the hint of moon and stars. "Ziggy, where are you? Since you called to set up this meet, you'd better be here!"
Never mind that she needed the information he claimed to have, it was usually better to keep Ziggy on the defensive. The blisshead wouldn't hesitate to make the most of any situation that could get him more creds to feed his addiction.
She shoved aside a dusty tapestry that covered a doorway in the narrow warren that ran the length of the building. It was doubtful the owners of the warehouse even knew Ziggy had his hideout back here. The tight space always made her antsy and claustrophobic.
"Ziggy!"
"Here." The skinny man slinked through a door, his fingers twitching the way they did when he was coming down off a high. "You got my creds?"
"Depends on whether you have the intel you promised." She crossed her arms and jutted her chin.
"I got it. It's prime." His yellowed teeth flashed in a smile that was supposed to be ingratiating, but wasn't.
"Just what you wanted about Tam."
The last place anyone had seen Tam was in a technobrothel. A very public area in a technobrothel. The question Gea wanted answered was why the cheetah been there in the first place. Hardly a way to lay low after pulling a job. Her client didn't know what Tam had been there for, only that she'd disappeared shortly after and hadn't been seen since.
Gea figured that if she wanted to know were Tam had gone, then she needed to know where she'd come from. And why. The why was always the hardest question to answer, but usually the most crucial and most revealing. People did all manner of stupid and insane things, but unless they were completely bent, they had their reasons, and it was a lot easier to do her job when she knew the motivation behind the action.
She made an impatient gesture at Ziggy. He always claimed his information was prime, but he'd say anything to get his next fix. "Let's hear it."
Tuesday, September 25th, 2012
LAUREL!
I've already send you an email telling you how to claim your prize.
Thanks to everyone who entered. Stop by next Monday for an Excerpted edition of Eden Bradley!
Sunday, September 16th, 2012
This week, Shelli Stevens is going to give us a chance to win her print anthology of the Holding out for a Hero series, so it has both stories inside. It's autographed too, yay! Comment on this post for a chance to win!
HOLDING OUT FOR A HERO

To protect, serve…and love.
Going Down
Sheriff Tyson Wyatt is positive the sexy new girl in town is hiding something. While he uncovers her secrets, he plans to uncover some other things too. Like how she feels under the covers. Eleanor is hiding out in Wyattville to avoid testifying against her drug-dealing ex-boyfriend. Soon she realizes that Tyson might be as dangerous to her heart as her ex is to her life.
Command and Control
When the love of her life returns from Afghanistan emotionally distant, Megan Asher is forced to call of their wedding. Brokenhearted, she tries to move on. Trevor Wyatt thought Megan would be better off–and safer–as far away from him as possible. Until he returns home and discovers Megan is dating. Yet reclaiming her unleashes the demons he never wanted her to witness…
Want your book featured on EXCERPTED? Use the Contact form to get in touch with Crystal.
Wednesday, August 22nd, 2012
So, I did a bunch of stuff on my summer break. Went to conferences, presented on stuff, sorta managed not to sound like an idiot, which is always good. But I also made some changes with my house, and health and beauty routines. I'll probably post a bit about that later.
I have a bunch of writing projects on the burner right now, some are out on submission, some are in progress, some are in edits and will be out soon. Just writing and being a librarian, the usual.
One of the things I had some fun with this summer was working on my patio garden. I live in an apartment, so I have no yard to tend, but I'm a big fan of having plants around. Succulent and cactus plants mostly, because I like things that thrive on benevolent neglect. Heh. I have more houseplants than my boyfriend knows what to do with, and that was before I spent a month in early summer building up the number and variety of potted plants in my patio garden to make it look even lovelier. Plus, I love to sit out on the deck, kick back in the little bistro table and chairs I have out there, and do some plotting on my books. Super relaxing. Well, when it's not totally sweltering out there. That's more of a spring and fall activity than high summer. Early mornings before it gets too hot is okay though.
So, I tried my hand at some macro photography of some of my patio plants. They look kinda weird and alien, but they amuse me. Click on the small images to see the big ones. I'm using them as rotating desktop images on my laptop right now.

Wednesday, August 22nd, 2012
This winner of Karen Erickson's WORTH THE SCANDAL is…
Debra Jayne East
Yay, and thanks to everyone for entering. Stay tuned for the next Excerpted!